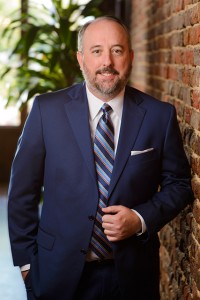 As you may know, Findlay Craft is celebrating 10 years of practice this year. 10 years ago Walter Lackey joined the Findlay Craft family. He brings to Findlay Craft experience assisting clients with wills and probate, consumer protection assistance, and matters involving state regulatory agencies. In addition, Mr. Lackey assists individuals and businesses in registering trademarks with the United States Patent and Trademark Office. From small Texas-based web businesses to world-wide technology companies, he also offers clients involved in patent litigation valuable guidance on local rules, local practice and procedure, District case law, and litigation and case resolution strategies. After graduating from Baylor University School of Law in 2004, Walter began his practice in Tyler, Texas. Before landing at Findlay Craft, Walter practiced at the Law Office of Donald R. Patterson, as well as working at Level 2 Legal.
In his free time, Walter enjoys spending time with his family.
Walter is always happy to meet new clients and answer any questions they may have. He offers free, no obligation consultations. If you would like to schedule a consultation with Walter or any one of the experienced attorneys at Findlay Craft, contact us today.
---
Findlay Craft