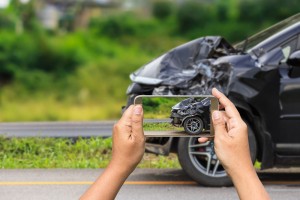 Never drive away from the scene.

You could face serious criminal penalties for being a hit-and-run driver if you leave the scene where someone has sustained injuries or was killed.

Call the police.

Accident reports can be invaluable when dealing with insurance companies.

Gather/Exchange information

Driver and passenger names
License plate numbers
Insurance Info.
Makes and models of vehicles involved
Contact info for eye witnesses
Location of accident
Name and badge number of police officers

Document the scene

Take pictures of the scene which will include where the accident took place, what the weather was like, positional of vehicles after impact, etc. Photograph all vehicles involved and any damage. You should also take pictures of any visible injuries you have. You should also continue to take photographs of injuries as that are healing or get worse as some bruising may not show for a few days.

Notify your insurance company as soon as possible but do not make any recorded statements to other insurance companies.
Seek Medical Attention

Injuries caused by motor vehicle accidents sometimes are not immediately apparent. A lot of clients report feeling pain a day or two following the accident.

Keep track of your medical treatment

Note doctors, physical therapist, chiropractors, or other medical professionals that you receive treatment from. Note if a medical provider has referred you to other caregivers. Note any treatments and/or medications you receive and request all medical reports and bills. This can all help you prove your medical expenses later.
Keep a record of how your injuries have impacted your daily life including the number of workdays missed and any routine activities you can't undertake. Note how this has affected your family life.

Protect your rights.

Consult your attorney as soon as possible. Your attorney can protect your rights. Insurance companies often request a recorded statement. It is important that you receive legal advice before providing this statement.
---
Findlay Craft