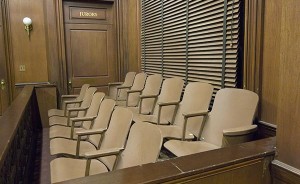 Findlay Craft, P.C., along with Finnegan, Henderson, Farabow, Garrett & Dunner LLP, represented Defendants FedEx Corp., Federal Express Corp, FedEx Ground Package System, Inc., FedEx Freight, Inc., FedEx Custom Critical Inc., FedEx Office and Print Services, Inc. and Genco Distribution System, Inc. against Plaintiff Intellectual Ventures II, LLC in a jury trial for patent infringement in Marshall, Texas with the Honorable Chief Judge Rodney Gilstrap presiding. Plaintiff accused Defendants of infringing four of its patents relating to shipping and tracking technology, and sought $96.2 million in damages.
FedEx attorney Mr. Eric Findlay commented in voir dire, "…if the patent wasn't new – if it wasn't first in what it was doing, it's not a valid patent and shouldn't have been granted."
The Finnegan team was led by Jeffrey Berkowitz and Gerald Ivey. Mr. Ivey delivered a superb closing noting that, "Sometimes patents are not granted but should be, and sometimes patents are granted and should not be."
After five days in trial and nearly five hours of deliberations, the jury rendered a verdict in favor of the Defendants, finding no infringement of the patents-in-suit and invalidating three of the four patents-in-suit.
Findlay Craft, P.C. was honored to represent the FedEx defendants in the Eastern District of Texas, and is proud to continue its philosophy of putting clients first.
---
Findlay Craft