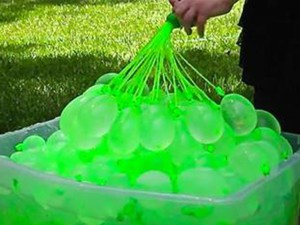 Law360, New York (November 22, 2017, 4:05 PM EST) — A Texas federal jury on Tuesday awarded $10.25 million in lost profits to a toy company over two patents for a relatively new water balloon-filling device, copycats of which were allegedly sold by Telebrands Corp. at Bed Bath & Beyond Inc. and other retailers — just weeks before the Patent Trial and Appeal Board is set to hold its own trial over the two patents.
The jury said that the collective plaintiffs — licensee and toy company Zuru Ltd. and patent holder Tinnus Enterprises — deserved $10.25 million in lost profits, $2 million in royalties and $67,000 in infringement because of Telebrands' infringement through the trial period. It was not immediately clear whether those amounts are cumulative or overlapping. It was also not clear whether the damages would be against all defendants. Bed Bath & Beyond, Fry's, Kroger, Sears and Walgreens are defendants but were not specifically named in the damages section of the verdict, whereas Telebrands, a maker of "As Seen On TV" products, was.
The two patents, issued in 2016 to Tinnus and then licensed to Zuru, are for "System and method for filling containers with fluids" and "Device for filling multiple water balloons." Zuru made a splash in the toy world with Bunch-O-Balloons, which allows the filling of dozens of water balloons simultaneously.
The jury also found in the plaintiffs' favor on validity, rejecting the defendants' contention that four claims across the two patents were invalid. The jury also found that both Telebrands' infringement and the retailers' infringement was willful.
Both patents were issued in 2016. However, earlier this year, PTAB agreed to institute review of both. Trial for both is set for Dec. 1, according to PTAB documents.
In May, PTAB refused to revisit its decisions instituting post-grant review of the two patents, rejecting the patent owner's argument that PTAB incorrectly created a conflict with a district court in East Texas.
Earlier this month, U.S. District Judge Robert Schroeder III adopted a magistrate's recommendation that named plaintiff Zuru Ltd. not be allowed to recover profits allegedly lost by parent company Zuru Inc., which is not a plaintiff.
The magistrate found that each made sales in the U.S., but Zuru Inc.'s were not under an exclusive license. Therefore, only Zuru Ltd. could recover lost profits.
Zuru Inc. got an oral license from Tinnus in August 2014 and a written license in July 2015. However, the written license "did not provide Zuru Inc. with the exclusive rights to the patents-in-suit needed to recover lost profits in this action," the judge said. So adding Zuru Inc. as a plaintiff wouldn't change anything. The only exclusive license was to Zuru Ltd. Zuru Inc. gained some exclusive rights "at best" in October 2016, the judge said — after an injunction had already been granted and therefore after Zuru Inc. would have lost any profits.
And "as to Tinnus Enterprises LLC, there appears to be no dispute that Tinnus did not sell any of the patented devices during the time of alleged infringement. … [I]t is understood and expected that Tinnus is not itself seeking to recover lost profits," the magistrate said. Despite that, at the end of trial, Tinnus was named among the collective "plaintiffs" to whom damages were awarded on the verdict form.
Gregory Love of Love Law Firm PC, an attorney for Telebrands, said on Wednesday that his client is "disappointed" with the Texas verdict and is looking forward to the PTAB trial given that the PTAB "has already ruled that the patents are likely invalid."
Representatives for Tinnus and Zuru did not immediately respond to requests for comment on Wednesday.
The patents at issue are U.S. Patent Numbers 9,242,749 and 9,315,282.
Tinnus and Zuru are represented by Eric Findlay and Debby Gunter of Findlay Craft PC, Thomas Dunlap, David Ludwig, Robert Spendlove, Eric Olavson, Cortland Putbrese, Jeffrey Ahdoot and Brian Koide of Dunlap Bennett & Ludwig PLLC, and Kelly Kubasta of Ferguson Braswell & Fraser PC.
Telebrands is represented by D. Michael Underhill, Eric Maurer and Stacey Grigsby of Boies Schiller & Flexner LLP. All defendants are represented by Lance Lee, Gregory Love of Love Law Firm PC, and Robert Maldonado and Elana Araj of Cooper & Dunham LLP.
The case is Tinnus et al. v. Telebrands et al., case number 6:16-cv-00033, in the U.S. District Court for the Eastern District of Texas. The PTAB cases are PGR2016-00030 and PGR2016-00031.
Source of Article – Click Here
---
Findlay Craft